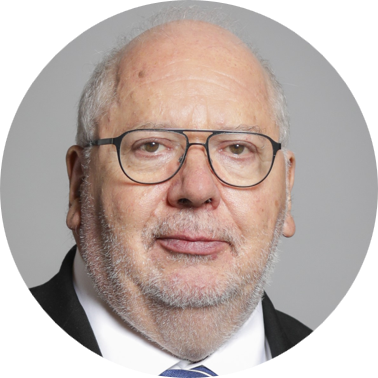 President, ISRM | Chair, National Preparedness Commission
Lord Toby Harris is chair of the National Preparedness Commission. Since it was established in 2020, the Commission has been influential in the development of the UK Government Resilience Framework and has established a reputation as the leading body promoting better preparedness for a major crisis or incident.
He is also Visiting Professor of Resilience at Cranfield University and is President of the Institute of Strategic Risk Management.  In addition, he chairs the Independent Advisory Group on Ethics for the National Crime Agency, as well as two regulatory bodies (the General Dental Council, which regulates dental professionals; and the Fundraising Regulator, which oversees charitable fundraising).
Lord Toby Harris was made a Life Peer in June 1998 and has been Chair of the Labour Peers since 2012. He stood down from Parliament's Joint Committee on National Security at the beginning of 2021, having been a member for most of the previous decade.  He has also been at various times a member of the House of Lords' Select Committees on Life Beyond COVID, on Democracy and Digital Technologies, on Personal Internet Security, and on the Olympic and Paralympic Legacy (which he chaired).
In 2016 and in 2021, he conducted Independent Reviews for the Mayor of London on London's Preparedness to Respond to a Terrorist Attack. His Independent Review on the Deaths of Young People in Prison Custody ("The Harris Review: Changing Prisons, Saving Lives") was published by the Ministry of Justice in July 2015.
He is a former Council Leader, led the Labour Group on the London Assembly for four years, and was the founding Chair of the Association of London Government (now London Councils). He was the first Chair of the Metropolitan Police Authority (2000-2004) and then on behalf of successive Home Secretaries oversaw police work on counter-terrorism and security (2004-2012).
In addition, he was the Chair of National Trading Standards (responsible for delivering national and cross-boundary consumer protection enforcement activity) from 2013 to 2021. He has also chaired the Independent Advisory Panel on Deaths in Custody, and was a member of the Committee of the Regions of the European Union.
He was born in 1953 and graduated from Cambridge University in 1975, having studied Natural Sciences and Economics and where he was President of the Cambridge Union.